Unique quilting machine in an upright position with 4 sewing heads that move independently, and qualified to work with centred designs, continuous and framed.
Get a high level of flexibility in your production and in the designs of the quilts, guarantying a perfectly quilted closed frame over the panel's perimeter.
Our exclusive and self-developed sewing-heads, together with our sewing technology, assures a high-quality finished sewing and excellent pattern precision, improving the aspect of your product.
These features make the ClevOne a key tool in achieving a strong competitive advantage allowing to adapt to fast-changing trends in the mattress industry.
QUILTING MOTION SYSTEM
A continous flow and control of the input material permits to achieve a high pattern accuracy, independently of materials and thicknesses.
SINGLE-NEEDLE PATTERNS
Doubles productivity in framed patterns with 4 and more motifs.
MATERIAL THICKNESS
Accepts a wide range of materials and thicknesses, between 1 - 8cm, thanks to the exclusive and adapted development of the sewing-heads.
FLEXIBLE PRODUCTION
Enlarges and eases production possibilities, in relation to materials, thicknesses and patterns.
LOCKSTITCH
Enables quilting at high RPM, delivering a strong and reliable seam.
INDUSTRY 4.0. READY
The integration of an advanced electronic architecture enables us to comply with the Industry 4.0 requirements: connectivity, modularity and energy efficiency.
Its four sewing heads with independent movement, moving along the transversal carriage, increase the production of multi-needle drawings up to 2.5 times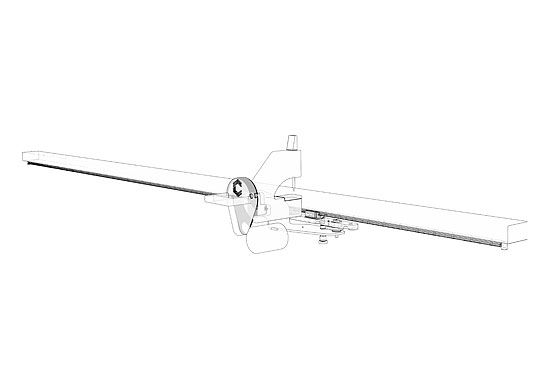 Eases fabric changeovers by allowing the operator to complete this task ergonomically. The rail system is complemented with an auxiliar handy sewing machine that provides a fast and solid seam, reducing interruptions in the manufacturing process.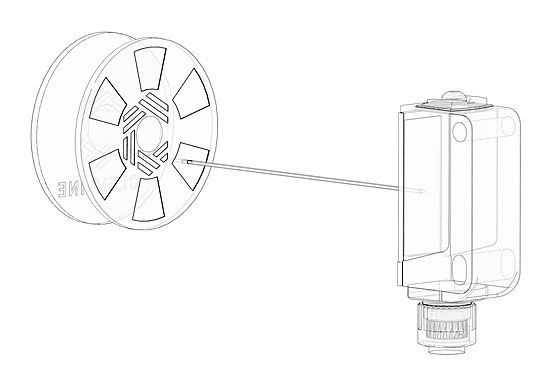 SMART SEAM MONITORING SYSTEM (BOBBIN CASE)
Assures the seam quality by monitoring the thread consumption, and detecting thread breaks; which avoids quality issues in the finished mattress.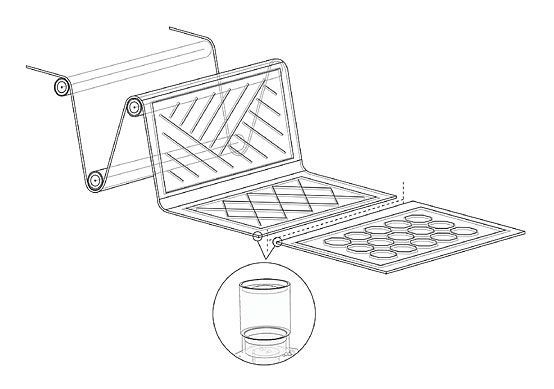 Communicates and synchronises the work-flow between ClevPanel and ClevOne (multi-head quilting machine), by processing a single production list introduced into the ClevOne´s HMI dashboard, including lateral and cross-cutting ClevPanel´s sewing-heads, guarantying a panel with a centred pattern.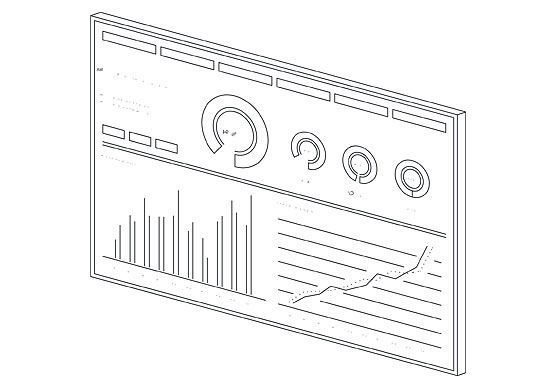 Enables the interaction with your quilting department through production management and visibility over the quilting production in the LIne ClevLine.
In three simple steps allows for the creation of a dynamic and smart production list, that is automatically organised according to your criteria and priorities: material change reduction, delivery dates, and others.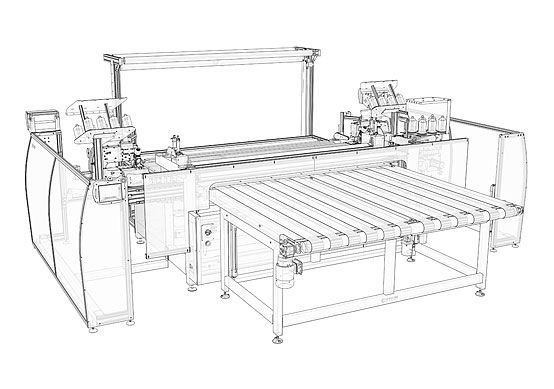 Completes two processes into one cutting and sewing of a quilted panelare completed simultaneously over the panel perimeter, delivering an important reduction in the manufacturing times and input costs, since it eliminates transitional processes and the exceeding edge between panels, needed otherwise for the manual overlock.
ClevPanel´s sewing-heads,exclusively developed, adapt automatically and accuretely to the requested panel measures (between 60-220cm and 140-240cm), working with thicknesses accepted by ClevOne (between 1-8cm), that delivers a perfect finish panel and eases the closing of the mattress.
The high level of integration between ClevOne and ClevPanel allows to manage a production list from a single dashboard.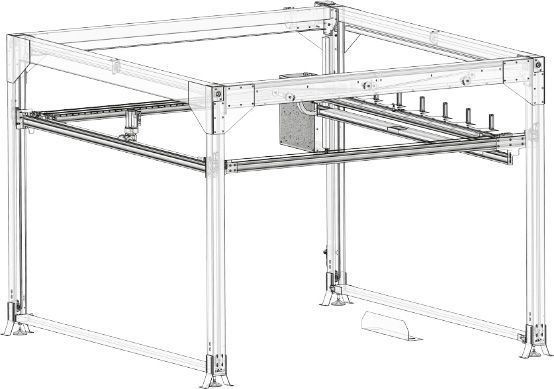 Automatic stacking machine for panels that contribute to greater automation of the manufacturing line, fully integrated and synchronized with our Control Panel, controlling both machines from the same control screen.
Automatic stacking machine that contributes to a higher level of automation,with an integration and synchronisation with the ClevOne and ClevPanel, which enables the operator to manage both machines from a single HMI dashboard.
The ClevStacker piles panels up in different working modes, and up to 2 metres high without operator´s interaction for roughly 30 minutes, thus reducing product manipulation and eliminating repetitive tasks.

Own exclusive sewing-heads

to deliver a high performance with an excellent seam
HIGH PERFORMANCE, OWN AND EXCLUSIVE SEWING HEADS
Since our beginnings, we have considered that development and adaptation of sewing-heads to the specifics of their tasks, are key to achieve the needed flexibility in the production. Delivering a high quality seam and pattern accuracy, when working with a large range of thicknesses (between 1-8 cm).
Research and development by our engineering team has resulted into a solid sewing system, built with a set of mechanical element with the purpose of giving response to a demanding market, challenging the production process day by day with new and thicker materials.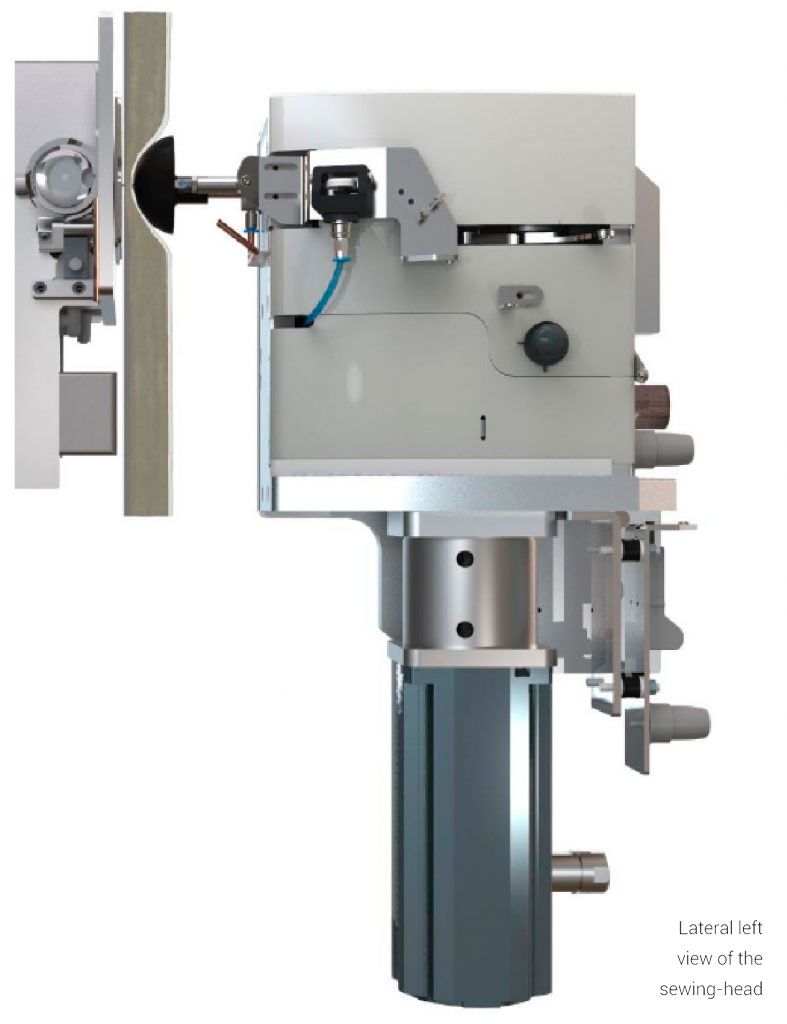 Powerful architecture

to challenge high production demands.
QMS "Quilting Motion System"
Quilted material flows vertically, through this new system that, synchronised with the transversal movement of the 4 independent sewing-heads achieves a high pattern and frame accuracy.
Our "Quilting Motion Sytem" (QMS), has been entirely developed by our engineering team, specialised and recognised, by SIEMENS, as Motion Control Specialist.
ClevOne has been designed to work in an upright position, doubling production and reducing floor space by 35%, in comparisson to conventional single-needle quilting machine, improving the return per m2.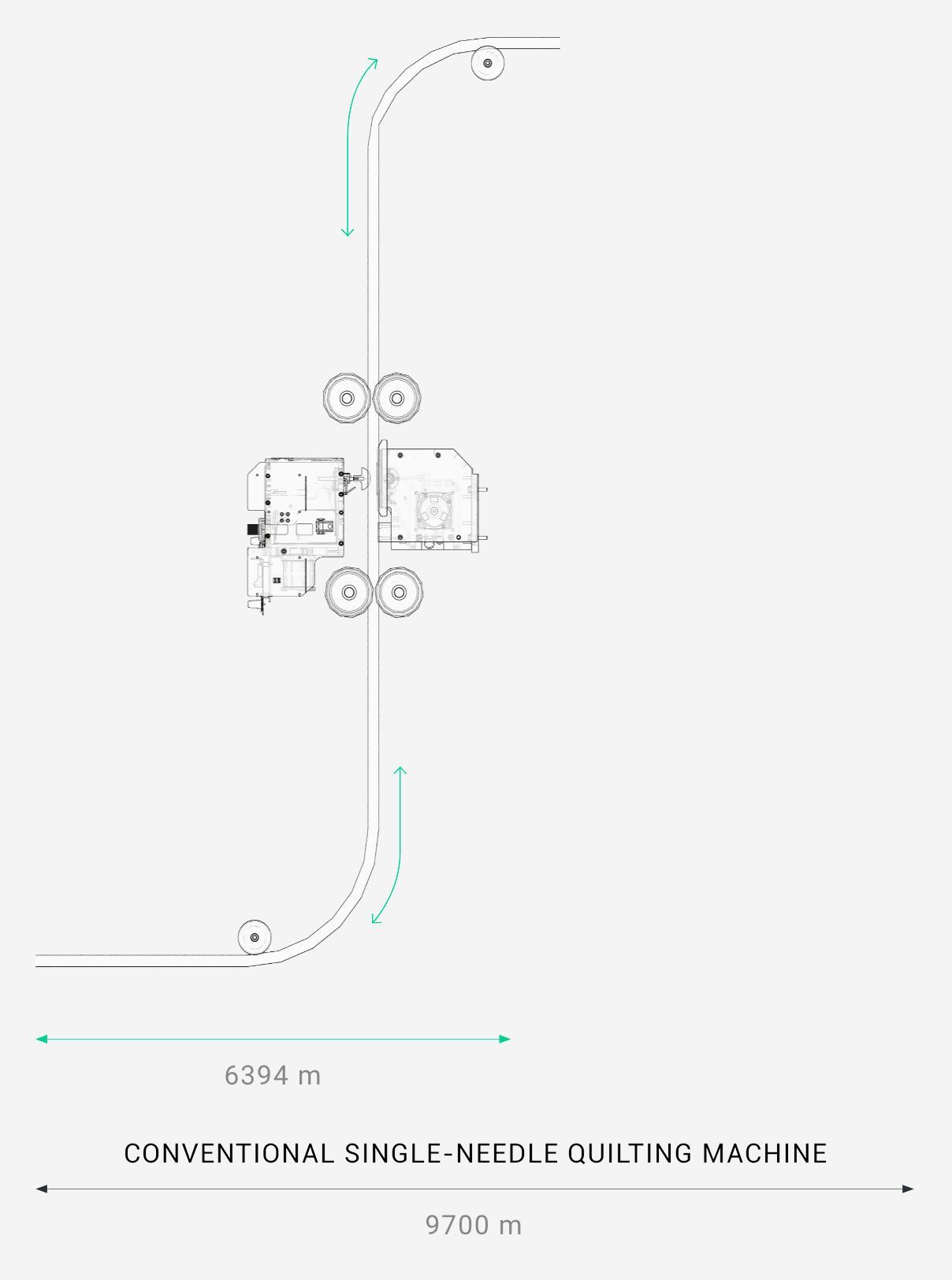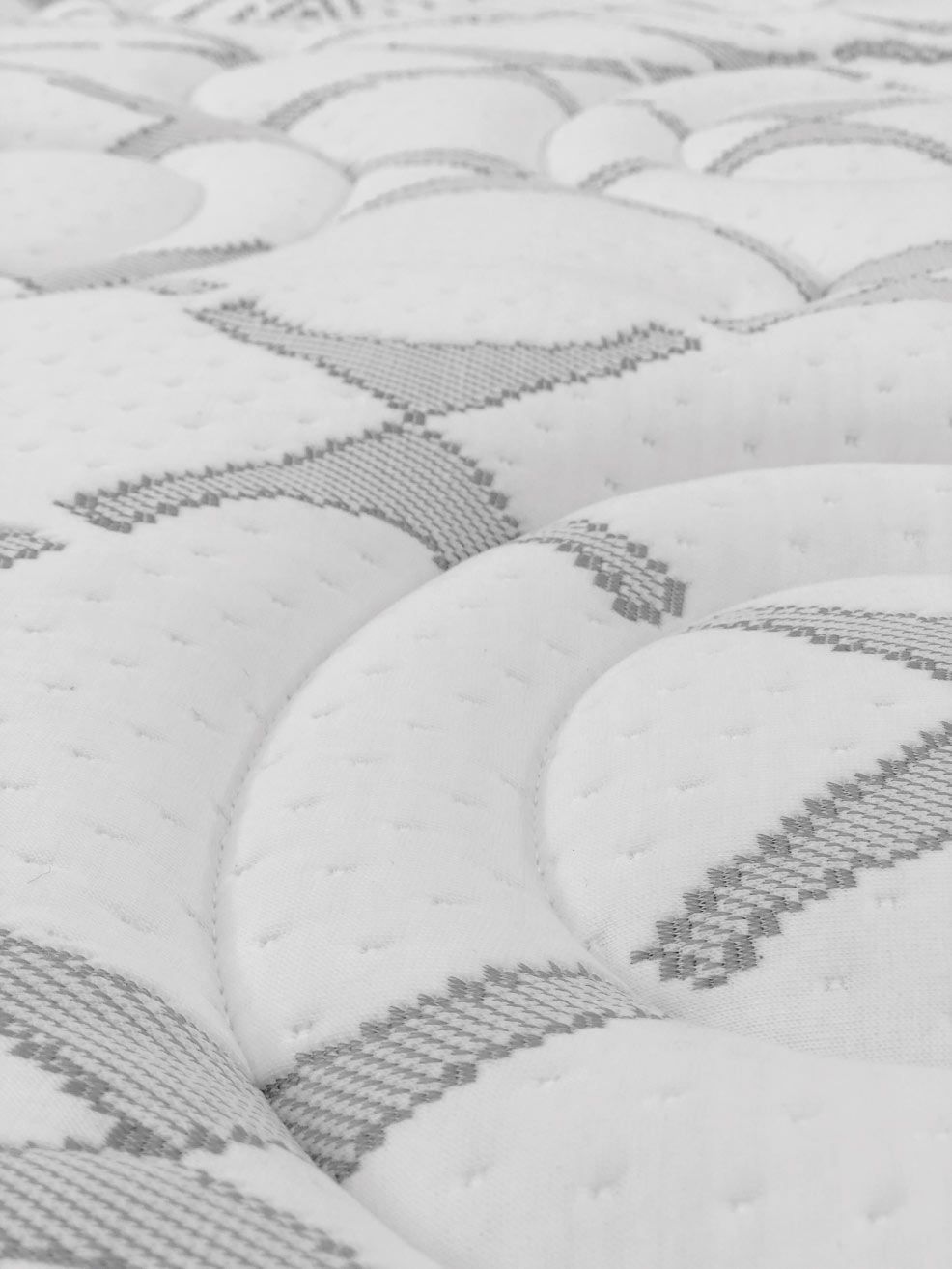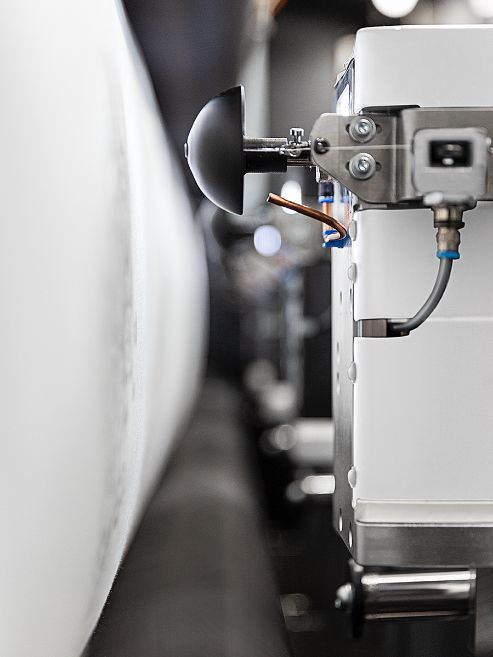 Our sewing technology and mechanical elements, make our machine capable of working with an extended needle-stroke that coordinated with a manually adjustable presser-foot presses and releases the quilted material; avoiding to drag it to guarantee a neat seam.
Intuitive design creation
ClevDrawin´is a designing software to create patterns for quilted panels before loading them into the ClevOne. Provides full control over the panel pattern creation, with a large range of possibilities.
An easy interface that assists in the creation from scrap and in the modification of a quilted pattern.
Patterns can be assorted in 3 types, depending on the number of   sewing-heads that participate simultenously in   the quilting process:
TYPE I
(1 sewing-head)
TYPE II
(2 sewing-heads)
TYPE III
(3 to 4 sewing-heads)
TYPE I
(1 sewing-head)
TYPE II
(2 sewing-heads)
TYPE III
(3 to 4 sewing-heads)
AUTOMATIC FRAME GENERATION
Focuses on framed patterns, assisting users with the creation of frames by introducing basic parametres.
COMMAND CUSTOMIZING ORGANISATION OF SEGMENTS
Aids to optimize quilting pattern quality and manufacturing times by avoiding quilting gaps.
Allows to edit the sewing-heads settings within the pattern, such as: rpm, stitch length, … etc.
Overlaps a selected image (fabrics and drawings) by placing it in the background, easing the creation of a pattern, and simulating it as a finished mattress panel.
Verifies whether the pattern is configurated correctly or changes must be applied before launching it into production.
PATTERN WORKING FLOWAND MEASURES
Shows each segment´s order and direction, in which the sewing-heads are to complete the pattern.
Management & production control
Automate and connect with your quilted panel manufacturing, providing efficiency and flexibility.
The current industrial revolution, Industry 4.0 and digitalization of processes, has motivated us to
develop a powerful software that enables
companies to manage their quilted panel production, by connecting different departments and users, feeding customized and valuable information to each of them.
Interaction between ClevOne and its users, allows to follow-up production in real-time and machines running time and generate custom-made reports, assisting to the decision-making process.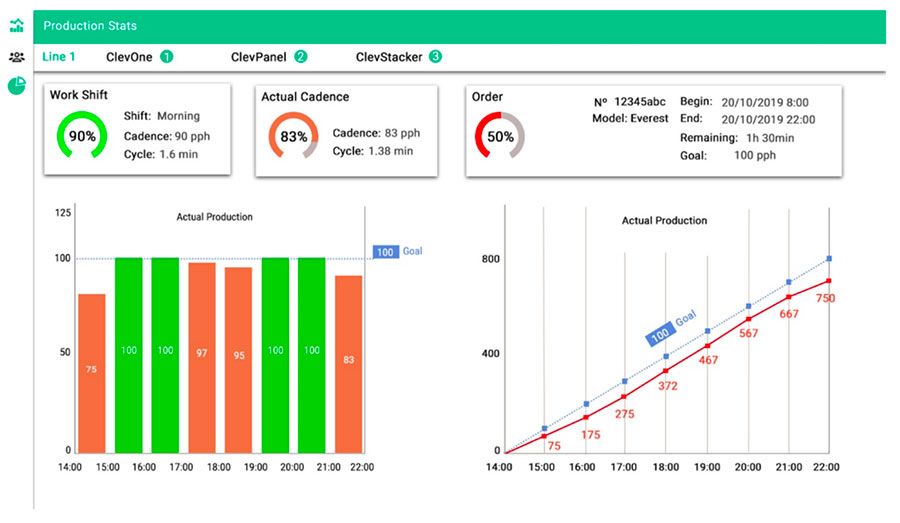 Modelling
Production
Planification
Modelling
The software enables users to create references according to their characteristics, (size, materials, patterns and quilts),
that can be used as tags in order to apply filters.
Production
Planification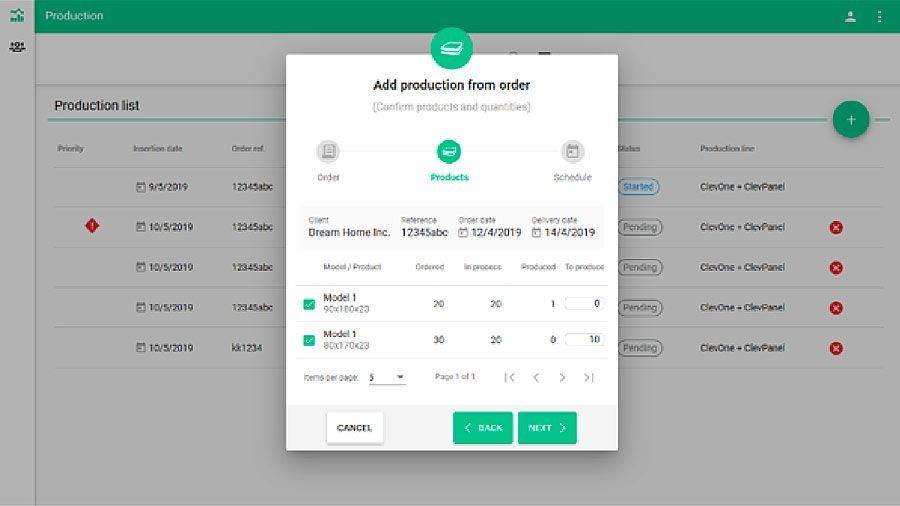 Smart and dynamic
Anticipating changes
Smart and dynamic
Production lists are transferred digitally and in real-time to the designated quilted panel production line. These lists are automatically arranged in an efficient manner to optimise resources and reduce changeovers.
Anticipating changes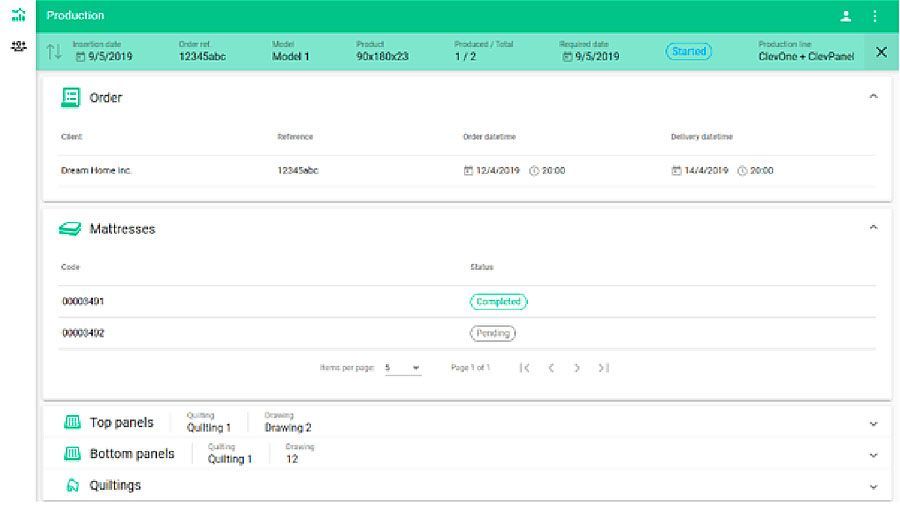 HMI Human Machine Interface
Maximum control and intuitive
Our HMI allows the the operator to interact directly with the ClevOne by loading ClevDrawin´ created patterns, that include ClevOne´s quilting parameters, such as the 
number of sewing-heads that participate in the pattern quilting process, as well as the measures.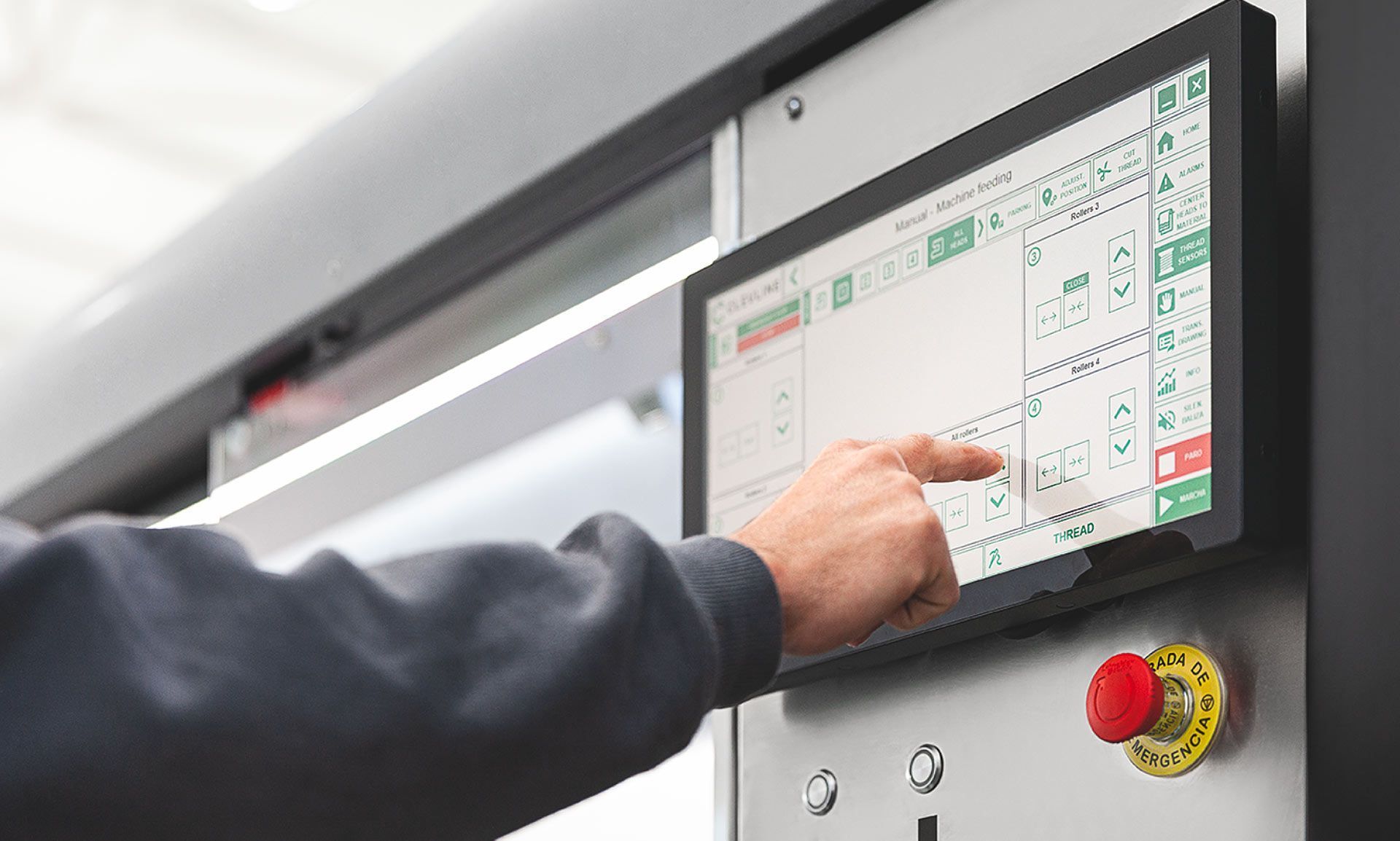 OFFERS TWO WORKING MODES:
A. Manual Introduction:
Users introduce manually patterns and unit quantities for production.
B. Automatic Introduction (ClevDynamics):
Our production manufacturing module enables users to import production lists automatically, which is organised in a smart and dynamic manner, optimising resources and reducing manufacturing times by arranging production according to preferences: measures, materials and patterns.
Our HMI enables control and accessibility to the moving components of the ClevOne, as they are all electronically connected. Modes:
Production: operator may move manually all elements that take part into the feeding and quilting system.
Maintenance:technicians have access to all moving elements independently to complete machine´s check-ups.
The HMI gives access to technicians when adjusting the synchronism of the sewing elements (needle and bobbin-case).
Through these settings, ClevOne gives technicians, hassle-free alignment of the two-independent sewing-blocks (needle and bobbin-case), in each of the 4 freely moving independent sewing-heads.
ClevOne is integrated with a useful functionality for the operator to assure a centered input material, as the HMI allows to move the sewing-heads to find its border limits, in order to start the pattern centered.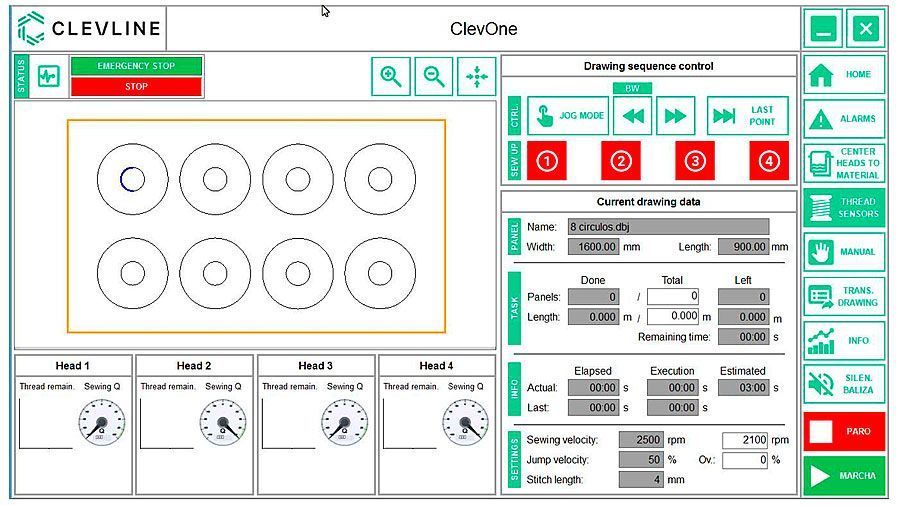 ClevOne (CO) layout
ClevPanel (CP) & ClevStacker (CS) layout
ClevOne (CO) layout
ClevPanel (CP) & ClevStacker (CS) layout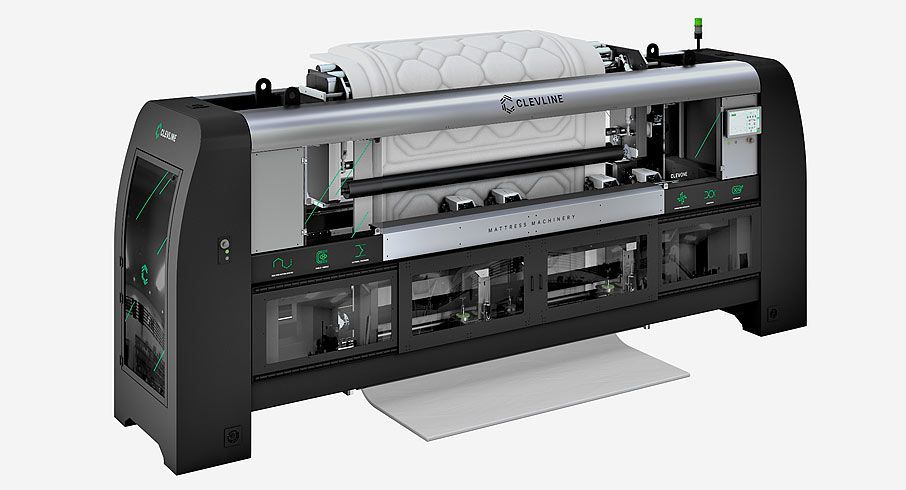 MÁQUINA ACOLCHADORA DE PANELES PARA COLCHÓN
Request an appointment with our sales team