Hemming machine that integrates into your quilting operations, reducing the number of working stations and product manipulation.
Automatic machine for cutting and sewing quilted panels
Completes two process into one: simultaneous cutting and sewing in its 3 sewing heads, supposes an important reduction in manufacturing time and input material cost, since it eliminates manual overlock processes and consequently the exceeding edge between quilted panels.
ClevPanel produces high quality covers, exact dimensions and with the four sides perfectly aligned, which not only facilitates the subsequent process of closing the mattress but also improves its final appearance
Panel accuracy
Provides an excellent accuracy in the panel´s dimensions, measuring the quilted material at rest with an electronic detection system, placed on the conveyor.
High speed
Production capacity of up to 3.2 panels per minute, achieved through synchronization between the ClevPanel modules.
Zero waste
Reduces the input costs of raw material, with a cross-cutting system that eliminates scrapping gaps between panels.
Double chainstitch
Enables to reach high speed production levels and working with high capacity thread reel that reduces changes and improves machine´s working time.
Material thickness
Accepts a wide range of materials and thicknesses, between 1–8cm, thanks to the exclusive and adapted development of the sewing-heads.
Industry 4.0 ready
The integration of an advanced electronic architecture enables us to comply with the Industry 4.0 requirements: connectivity, modularity and energy efficiency.
We offer you as a series, one of the best operations of cutting and sewing industrial panels.
You can also improve your operation with the following options that will facilitate and optimize the unit work and that of the entire production chain.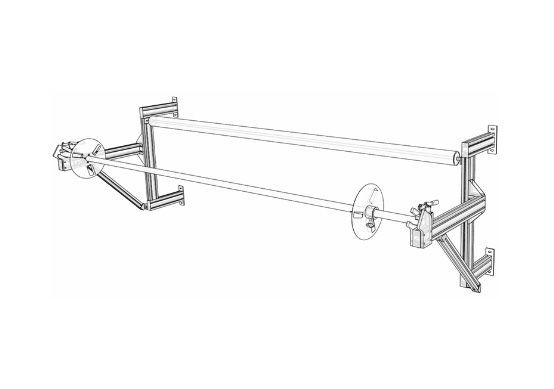 Allows working from a quilted roll autonomously in case of not having a quilting machine within your manufacturing process.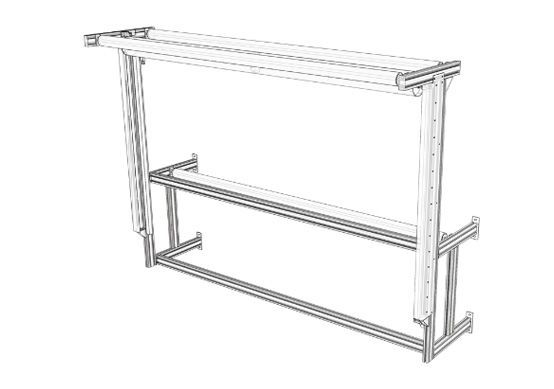 Enables integration with multi-needle quilting machines, synchronising the work-flows and eliminating transitional processes.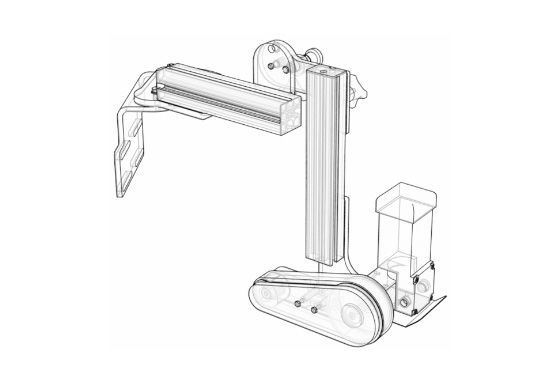 Smooths the feeding of quilted material into the cutting and sewing process, avoiding possible creases in finished panels.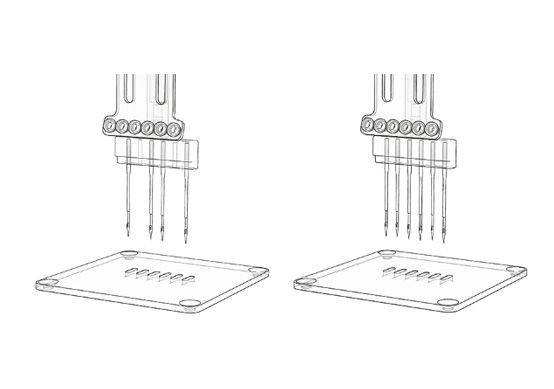 NEEDLE KIT WITH 6 NEEDLES AT ¼"
Widens the range of needle spacing, ¼" or ½", and provides the possibility to work with up to 3 sewing per side, improving the mattress closing process.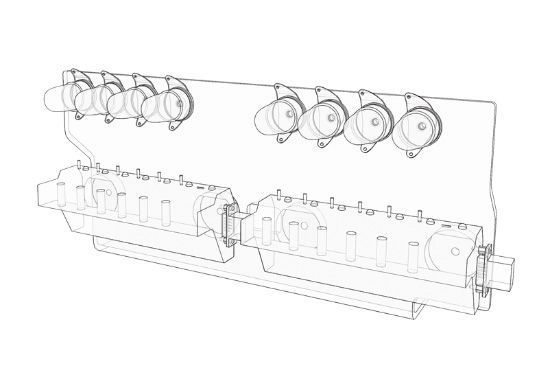 THREAD-BREAK DETECTION SYSTEM
Spots and notifies the operator in the event of thread issues, in order to act quickly and avoid causing quality issues in the finished product.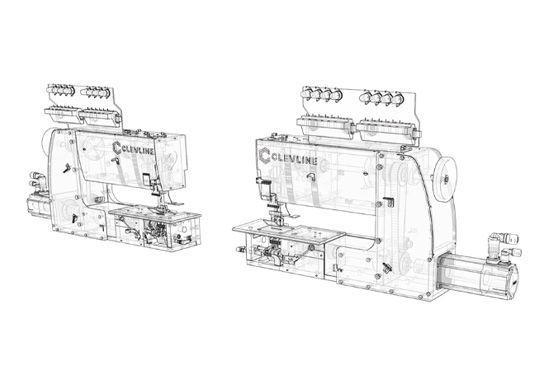 MOTORIZED AUTOMATIC ADJUSTMENT OF THE LATERAL HEADS
Adjusts and places the lateral sewing-heads automatically to the specific measures included into the production list, avoiding manual actions.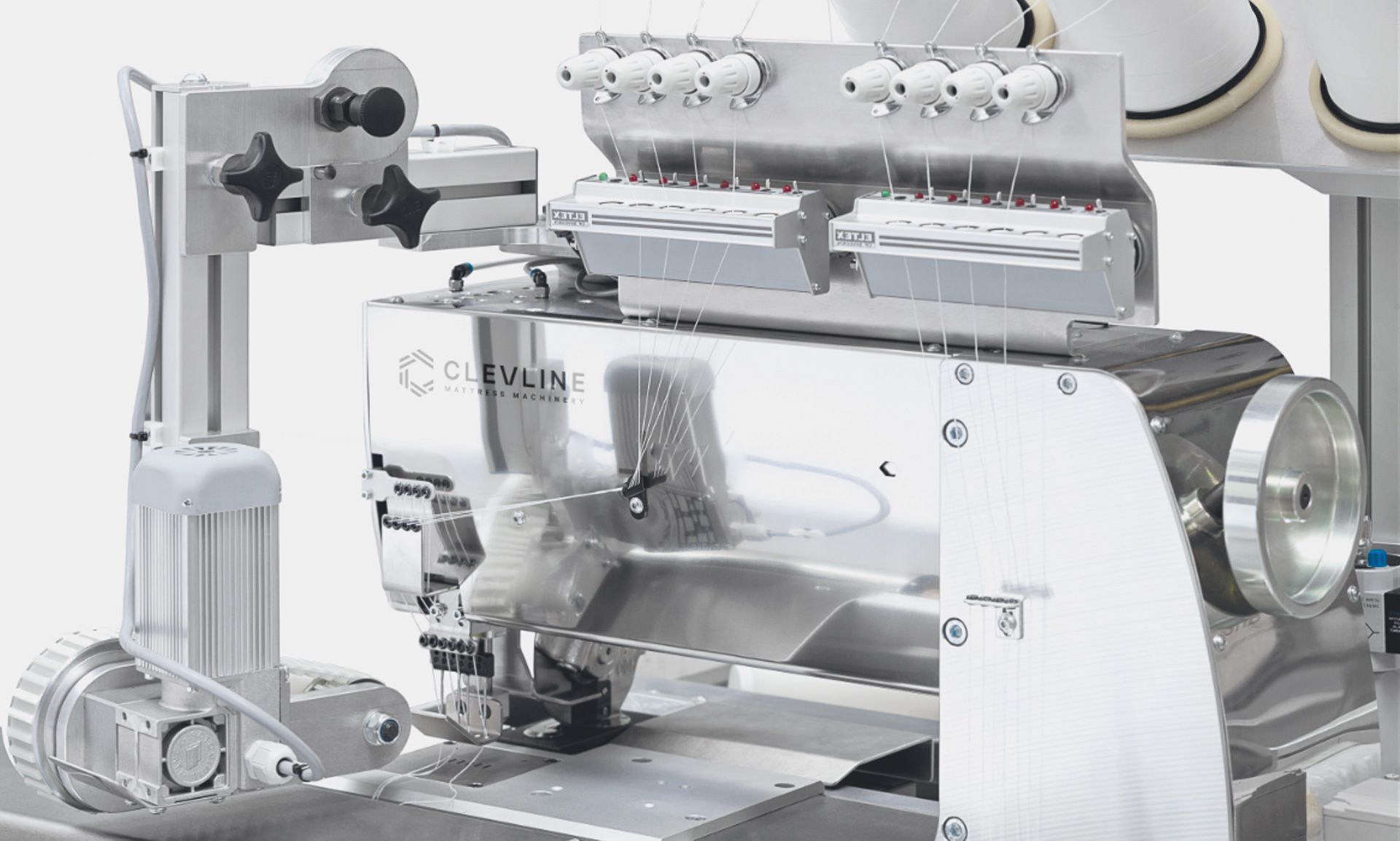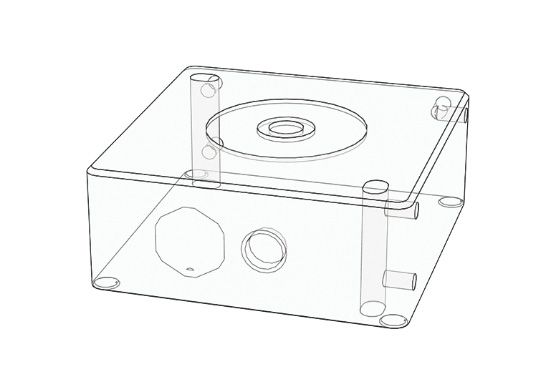 MARK DETECTION SYSTEM (JOINT)
Detects marks made by the operator in material joints, avoiding that these end into a finished mattress, therefore leading on to further input material efficiencies.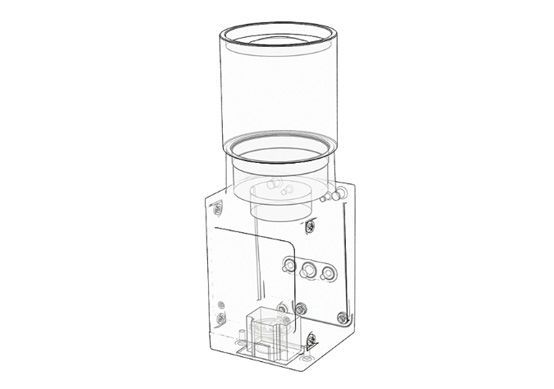 SEWING RECOGNITION CAMERA
Automates single-needle manufacturing processes, where a specific and recognisable sewing mark can be integrated into quilted patterns, which is to be processed by the ClevPanel as a cross-cutting command, assuring a centred pattern panel.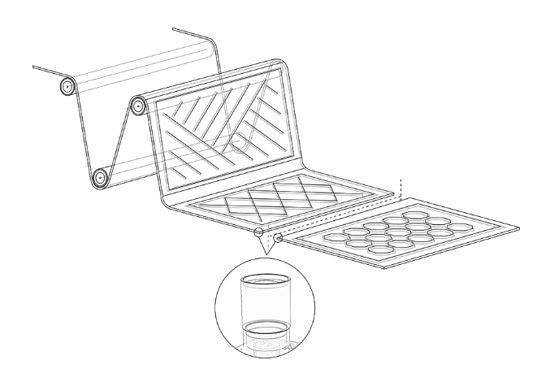 Communicates and synchronises the work-flow between ClevPanel and ClevOne (multi-head quilting machine), by processing a single production list introduced into the ClevOne´s HMI dashboard, including lateral and cross-cutting ClevPanel´s sewing-heads, guarantying a panel with a centred pattern.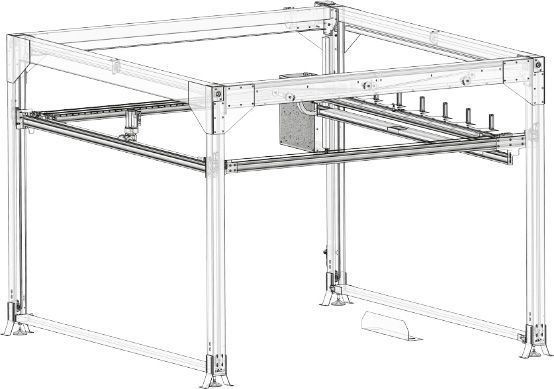 Automatic stacking machine that contributes to a higher level of automation, with an integration and synchronisation with the ClevPanel, which enables the operator to manage both machines from a single HMI dashboard.
Además, garantiza un aumento de la calidad del proceso productivo, evitando la manipulación de los paneles y eliminando tareas repetitivas, lo que libera al operariowpml_nbsp para realizar otros trabajos de mayor valor.
The ClevStacker piles panels up in different working modes, and up to 2 metres high without operator´s interaction for roughly 30 minutes, thus reducing product manipulation and eliminating repetitive tasks.
Designed by Clevline exclusively for this application.
AUTOMATIC AND PROGRAMMABLE SHARPENING SYSTEM
Sharpening cycles are managed from the HMI dashboard, assuring a continuous quality trimmed edge, without risk for the operator, nor interruptions in the production.
SEWING BLOCK PROTECTION SYSTEM
Verifies the correct placement of the mechanical elements of the sewing-head, preventing faults and damages. maintenance costs .
HOMOGENEOUS INTERNAL MECHANICAL
Our development of the sewing-heads focused in the homogeneity of their internal mechanical elements, easing preventive and corrective maintenance and reducing the stock of spare parts.
AUTOMATIC LATERAL QUILTED SURPLUS EVACUATION SYSTEM
Pulls the lateral surplus towards a secured area, avoiding stoppage on the production and improving operator's security.
AUTOMATIC AND PROGRAMMABLE LUBRICATION SYSTEM
Lubrication is programmable from the HMI dashboard, reducing preventive maintenance costs and extending mechanical elements´ lifetime.
Integration of these electric motors assures a total control and accuracy to deliver a uniform and high-quality sewing.
Work in connection with a quilting machine:
The padding material can feed ClevPanel from a quilter or from a roll of quilted material.
The connection of the ClevPanel to a quilting machine will improve its efficiency and production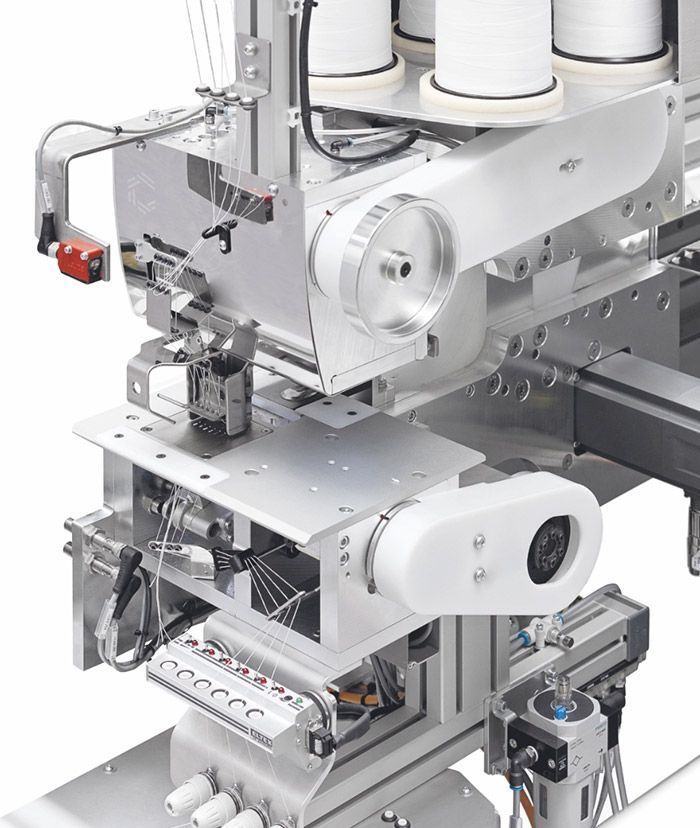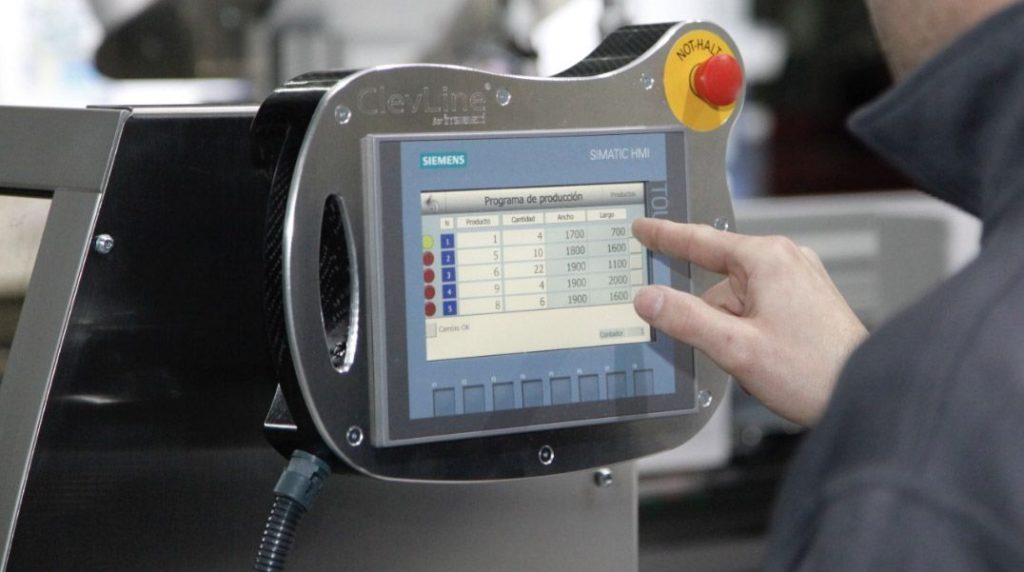 ClevPanel can be easily operated from a touch screen.
Our software allows all users to enter all the necessary parameters in the daily production process: production lots, functional controls, materials, collections …
Most of the mechanical and electronic components of ClevPanel come from leading brands, being easily available in the usual consumer markets.
In this way, our customers achieve greater autonomy and immediate attention.
SENSOR DETECTOR OF MATERIAL IN EVACUATION TABLE
Included in the panel evacuation table, performs the reading of the panel at rest, increasing the precision in the measure of the panel programmed from the screen.
Clevpanel layout
Clevpanel & Stacker layout
Clevpanel layout
Clevpanel & Stacker layout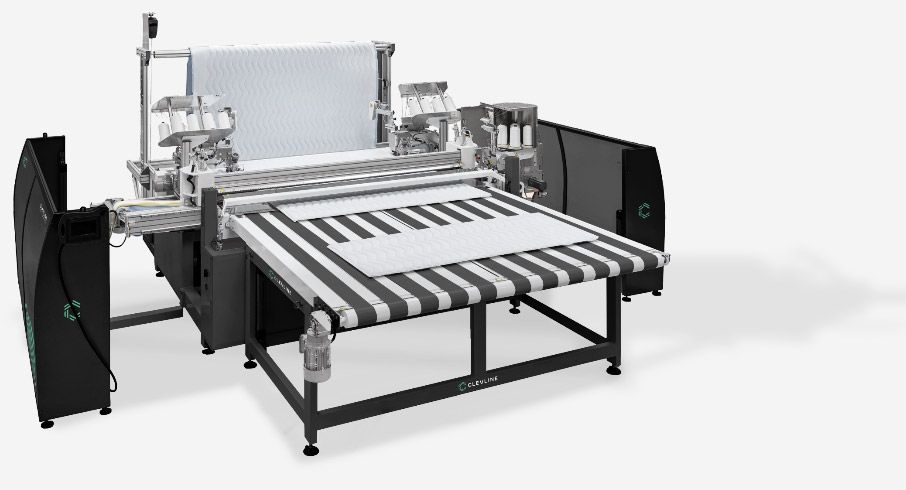 Automatic machine for cutting and sewing quilted panels
Request an appointment with our sales team